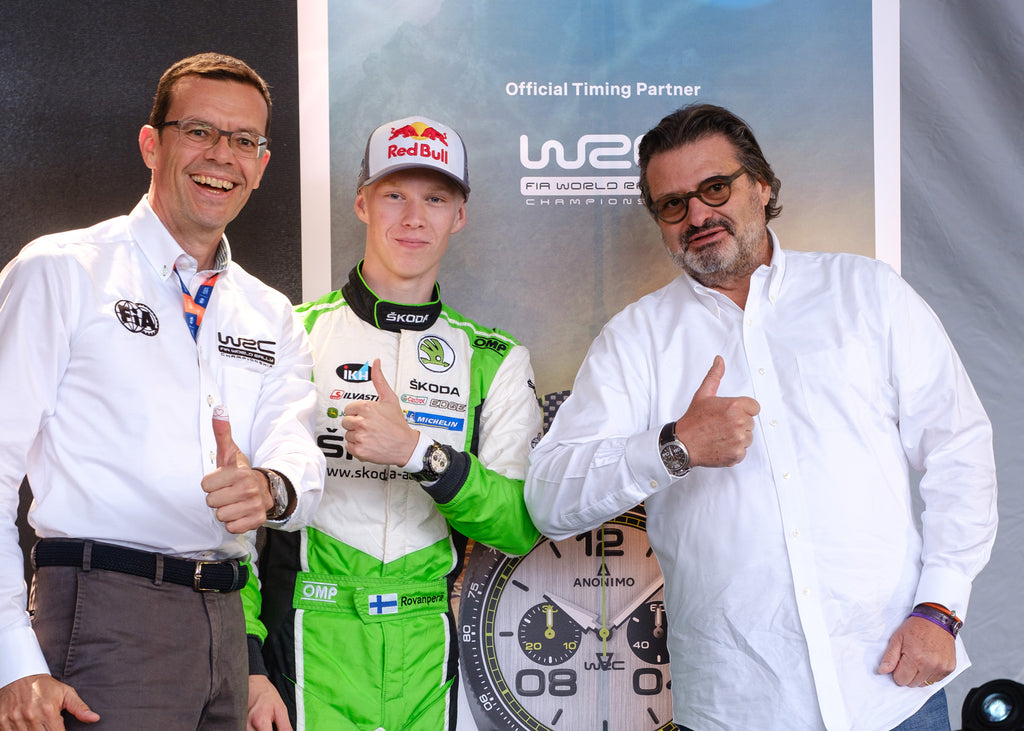 ANONIMO is proud to race alongside Kalle Rovanperä
At the dawn of the Finnish Rally (August 1-4, 2019), on the grounds of the youngest driver of the World Rally Championship 2 (WRC 2), ANONIMO is pleased to announce its partnership with Kalle Rovanperä. As official timekeeper of the FIA World Rally Championship (WRC) since 2018, ANONIMO is committed to supporting this promising and passionate talent.
For those who have not heard of Kalle Rovanperä yet, these few images of his skills, at barely 8 years old, are breathtaking: Kalle Rovanperä - 8 years old - Future rally star? Kalle Rovanperä, has definitely rally in his blood. His father, Harri Rovanperä, is a former WRC driver who won the Swedish Rally just a few months after the birth of his son. Now aged 18, Kalle Rovanperä is the youngest driver in the World Rally Championship 2; he is outstandingly fast and has reached excellent results by winning the last three consecutive rounds in the WRC 2 Pro category. He is currently leading the championship. "I'm really looking forward to Rally Finland which is my home event. The season has been successful so far and I hope I can continue like this. The goal for this season is to win WRC 2 Pro championship with Skoda" explains Kalle Rovanperä.
The incredible rise of this young promising talent is driven by his tenacity, desire and ability. He embodies the passion that comes down to trying, never giving up, learning, starting over and enjoying. ANONIMO intends to support Kalle Rovanperä, see him progress and share his success. On the one hand, a young driver and his team highly motivated to win the championship and on the other, a brand that emphasizes sharing and achievement, both of which are united by a partnership based on passion and the desire to grow together.
---