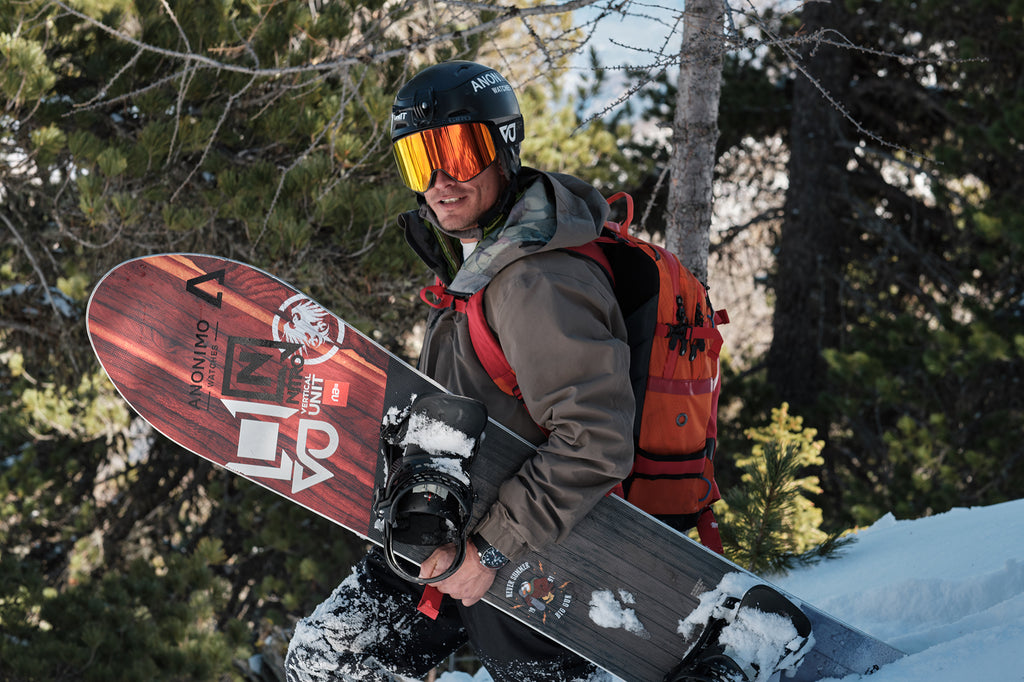 Tibor Sesti – Portrait of a friend
The prevailing personality trait among all Friends of the brand is the freedom to think, to do, to be. And who carves out their own path better than freeriders? This is undoubtedly what attracted ANONIMO to this community built on authenticity, freedom and passion.
This was only too clear when the ANONIMO team met Swiss freerider, Tibor Sesti. Gathered around a table - as always - the discussion quickly turned to passions and making time for said passions. Tibor is no longer a teenager. At the grand age of 36, he is considered a senior in the freeriding world. But not mentally! He confirms this himself, "I don't feel old at all. I am able to spend most of my time doing what I love, and continue to have fun doing what I do each and every day. I think when people forget to have fun and play around, that's when they start to age."
This simple, authentic approach, driven by the joy of doing what he loves, and sharing his passion, is what Tibor found at ANONIMO. He adds: "The brand and I also share the fundamental values of perseverance, honesty and friendship."
Had he previously been passionate about watchmaking? He admits: "Inevitably, being Swiss, I had some knowledge of the industry, but as I have always practised a lot of sport, I was never really able to wear a watch. However, as I've got older, wearing one has become a real pleasure. It is not only ANONIMO's mechanical precision and simple style that appeals to me, but also their striking design." There's no denying that he and his ANONIMO NAUTILO 42 mm Special Edition Nendaz Freeride, with its blue dial and rubber strap, have some aspects in common: elegant, with a strong character, and - with a Swiss movement, and water-resistant to 200 m - ready for anything.
Tibor also admires how the brand supports their Friends. The happy-go-lucky freerider maintains: "ANONIMO supports many young people to achieve their sporting passions. The brand is helping grow the reputation of my sport. And always with the same friendly, authentic and passionate spirit. Our winter sport is really lucky to be getting this kind of support."
Should you be looking for him, most of the time you'll find him on the mountains in the Canton of Valais. ;-)
---